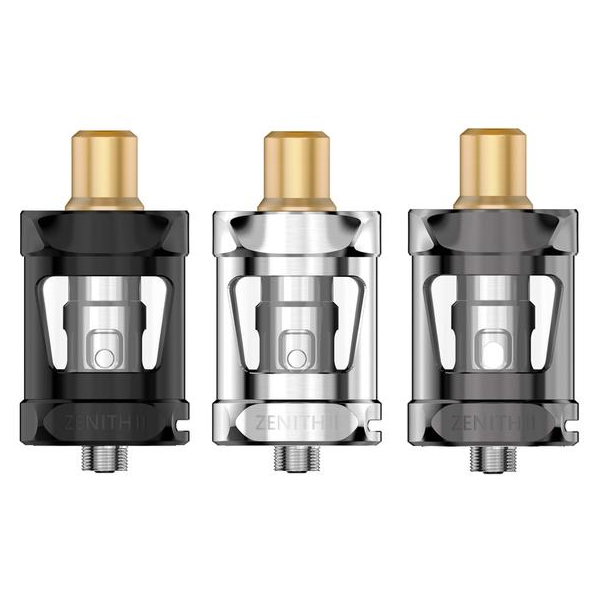 Innokin has no equal in designing quality atomizers. The Zenith II is the proof. Made of stainless steel, this piece has dimensions of 51.7 x 26 mm. It fits many boxes and stands out from other Zenith with its shape and thanks to its adjustable airflow ring that does not hesitate to do in atypical.
Simple to use, the Zenith II Innokin allows both direct and indirect inhalations, which makes it an ideal atomizer for any user.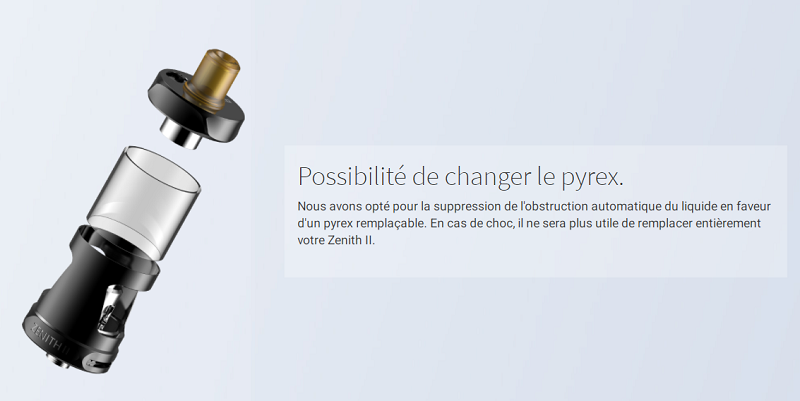 The tank has a capacity of 5.5 ml and is filled from the top. To do so, simply turn the top cap and pour the liquid from the gap. Innokin is also committed to safety. Indeed, the precision of the top cap rotation has been improved and a silicone filling seal has been added. So you will not be subjected to any introduction of impurities.
And if the glass breaks, don't worry. You can replace the Pyrex. You will not need to replace the atomizer itself.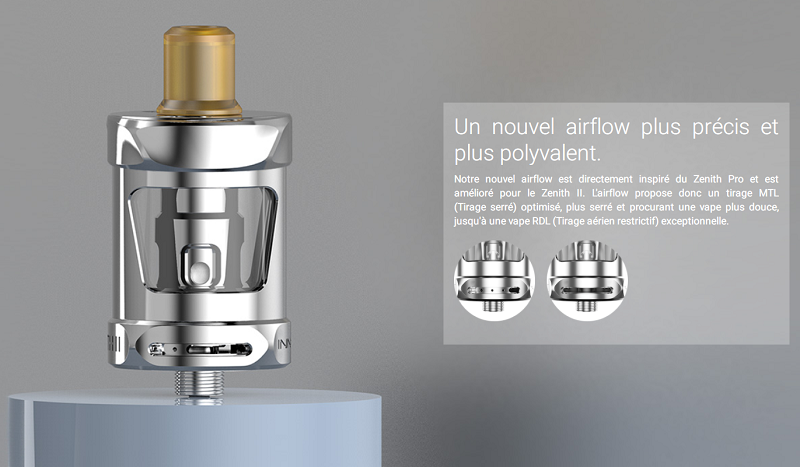 As for the adjustable airflow, it is located at the bottom of the atomizer. Align the ring facing the small openings, you will get a tight draw in indirect inhalation and a rendering of excellent flavors. Align the ring facing the largest opening, you will get a more airy draw in direct inhalation restrictive. You will also get more vapor.
Finally, you should know that the Zenith II atomizer is compatible with Z coils of the brand Innokin. Two are provided:
– a coil in 0.8 ohm (9 to 12 watts)
– a 0.3 ohm coil (10 to 14 watts)
To sum up, with the Zenith II from Innokin, your vape moments will be most enjoyable.
Contents:
1 x Zenith II
1 x Z 0.8 ohm (pre-installed)
1 x 0.3 ohm Z
1 x RDL drip tip
1 x 5.5 ml replacement glass
1 x bag of seals
1 x user's manual