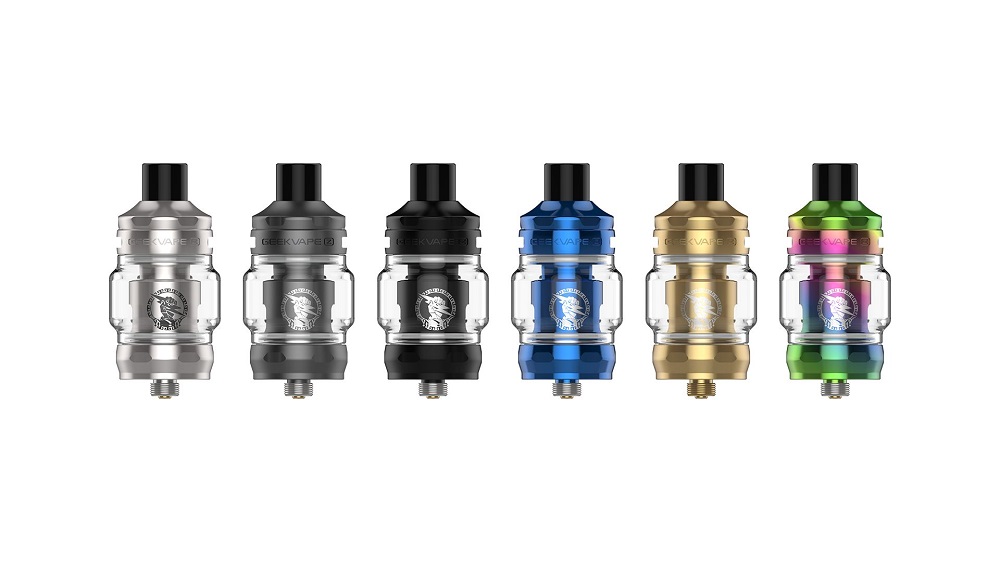 With the Z Nano 2, Geekvape creates a new version of the Zeus Nano. And what a version ! Indeed, its lines seduce by their sobriety, the 510 drip tip favours the comfort of the lips and a sparkling logo representing a lightning displayed by a hand is enthroned in its centre. In addition, the user can choose between several colours at the time of purchase, including a bright gold and an original rainbow.
Thanks to the 22 mm diameter and the 510 connection, it is possible to attach this atomizer to a large number of existing boxes and its 3.5 ml bulb tank offers a long e-liquid autonomy. By the way, a straight 2 ml glass is also provided.
As far as filling is concerned, it is done from the top, with the greatest ease and without any risk of leaks. Simply lift the top cap and pour the liquid into the gap with a pipette. It only takes a few seconds.
The Z Nano 2 also has an adjustable airflow located at the top to limit leakage. The vapour production will be consequent and the user will be able to indulge in the MTL or DL draw.
Finally, a bonus that is not negligible : the Z Nano 2 is compatible with Geekvape B coils. These coils are able to produce a large amount of steam and ensure excellent flavour rendition. 2 of these coils are supplied :
A 0.2 ohm GV Boost coil (50-58 watts) for direct inhalation vape
A GV Boost coil of 0.6 ohm (15-25 watts) for indirect vaping
The Z Nano 2 is therefore worthy of its predecessor.
Contents :
1x Z Nano 2 atomizer
1x coil B 0.20 ohm
1x coil B 0.60 ohm
1x 2 ml pyrex replacement
1x spare parts set
1x drip tip 510
User's manual