An aesthetic success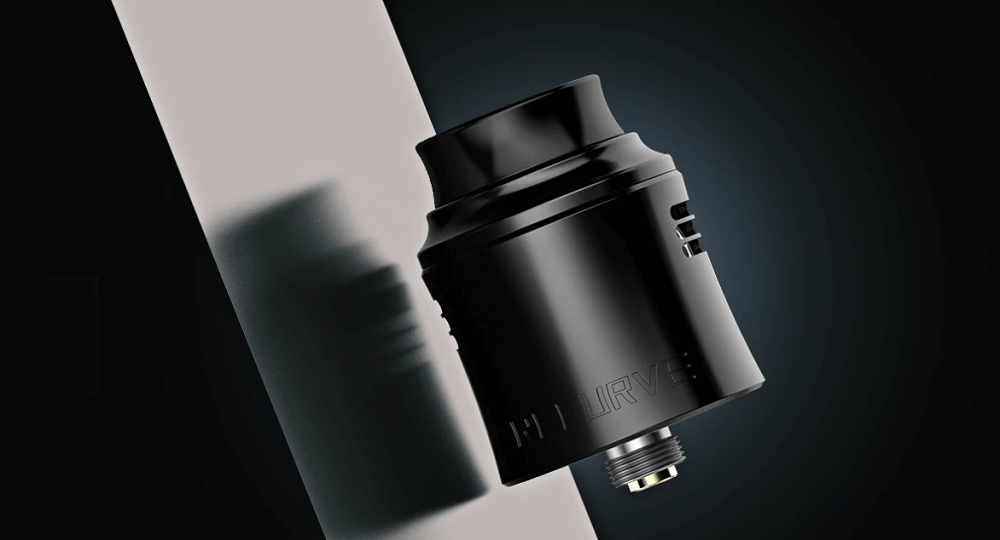 The Recurve V2 is the result of a collaboration between Wotofo and Mikes Vape. It is a remarkable product, attractive for several reasons, starting with its aesthetic qualities. It is made of stainless steel and uses PEEK as an insulating material. In addition, it has a delrin 810 drip tip – ideal for lip comfort – and measures 35.55 x 24.6 mm, so it is a small, easy-to-carry piece that can be attached to many of the boxes available on the market.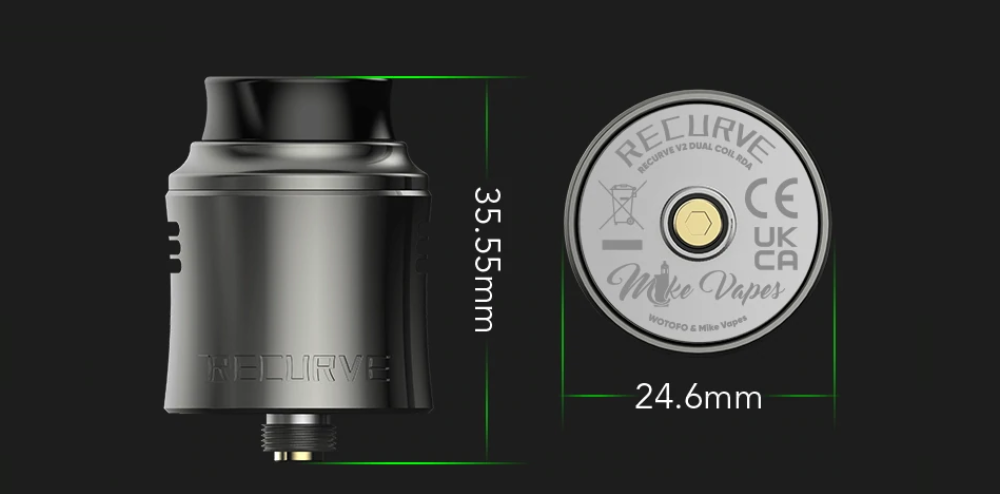 Above all, we are dealing with a sprayer with beautiful lines. The lines are slightly curved and the Recurve logo is engraved on the body of the product.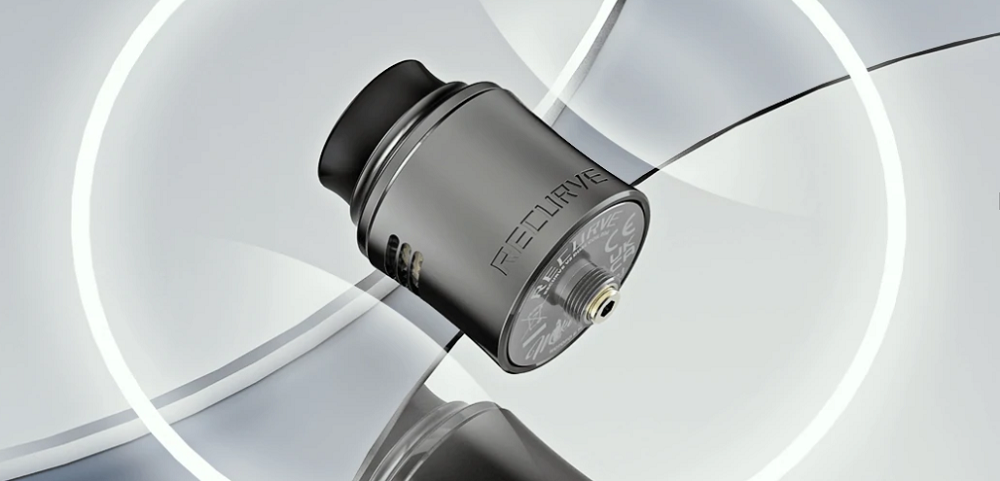 The successor to the first Wotofo Recurve, the RDA Recurve V2 surpasses it by being thinner and more elegant.
A technically sophisticated RDA

If the Recurve V2 surpasses its predecessor in terms of aesthetics, it also surpasses it in terms of technology. This rebuildable atomizer – intended for DL draw – has a deck capable of accommodating 1 or 2 coils :
In single coil assembly, it accepts Dual Core Fused Clapton coils of 5 mm and about 0.65 ohm (usable between 5 and 80W, preferably between 65 and 75W)
In double coil assembly, it accepts 3 mm Framed Staple Clapton coils of about 0.17 ohm (usable between 5 and 80W, preferably between 70-78W)
The assembly is quick and easy.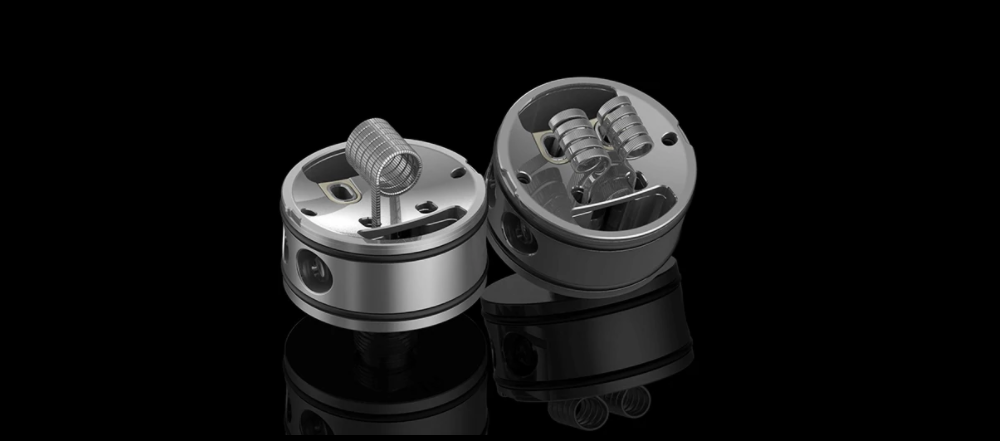 The Recurve V2 also impresses by the nature of its airflow. Indeed, it is equipped with 2 lateral air inlets, each with 3 horizontal and parallel slots. This means that 3 levels of adjustment are possible : 1, 2 or 3 open lines. Then, above the deck, an airflow adapter is positioned. It is shaped like a dome and has honeycomb perforations. The air enters through the slots, passes through the perforations, goes directly to the coil(s) and up to the drip tip. Thanks to this ingenious design, the air flow is softened and the flavour reproduction is improved. By the way, 2 adapters are provided :
One for single coil assemblies (with smaller perforations)
One (pre-installed) for double coil mounts (with larger perforations)
Finally, this RDA has a tank capable of holding 2 ml of e-liquid. However, the necessary equipment is provided to transform it into a squonk model, compatible bottom feeder. In this way, a good autonomy in e-liquid is ensured.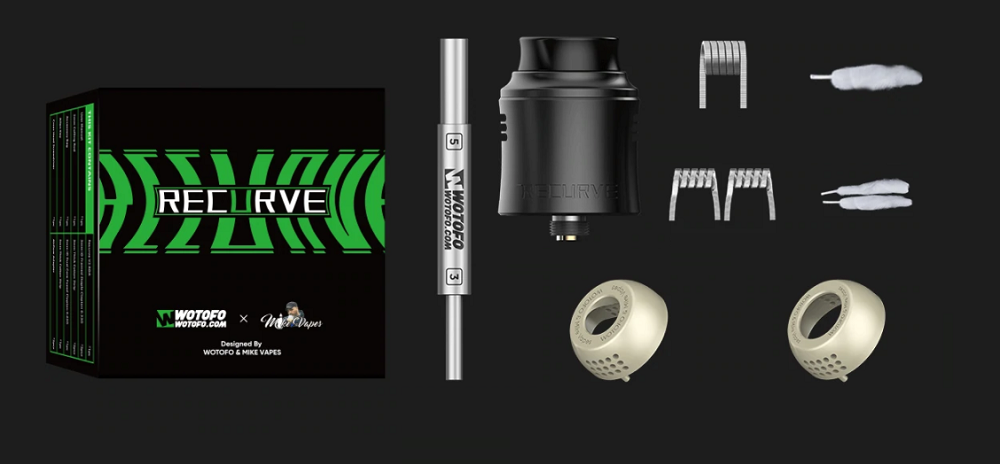 After the success of the first Recurve, Wotofo is doing it again with an even better successor. The collaboration with Mikes Vape is so successful that this Recurve V2 has everything it takes to delight its users.
Contents :
1x Recurve V2 RDA




1x

5mm ID Dual Core Fused Clapton 0.65Ω




1x

5mm Thick Cotton Strip




2x

3mm ID Framed Staple Clapton 0.33Ω




2x

3mm Thick Cotton Strip




2x

Airflow Adapter




1x

5mm Coiling Rod




1x Cross Head Screwdriver




1x

Allen Key




1x

Accessory Bag




1x User Manual