When 2 big manufacturers join forces, it can only result in a high-flying achievement. Proof is this Kumo RDTA, a rebuildable atomizer that benefits from the liquid feeding technology of Steampipes and the inventive aesthetics of Aspire.
Measuring 51 x 24mm, weighing 67.6g, with high-grade stainless steel and screws designed through an electroplating process, the Kumo RDTA is an aesthetically striking piece. Excessive ornamentation is avoided, sobriety is favored and its appearance – we will come back to this – is changeable thanks to a second airflow ring and a spare tube. As for the drip tip and the thread, the first is a replaceable 810 and the second is a 510 connector.

In terms of capacity, the Kumo does not lack generosity with its 3.5 ml tank. The filling is done laterally and easily. Simply remove the top cap to access the hole and pour the liquid. If the transparency of the tank allows you to have an eye on the amount of e-liquid remaining, the user can nevertheless replace this tube with another (provided) designed in stainless steel and a color similar to that of the atomizer. Thus, it will give this RDTA a plain look while increasing its robustness.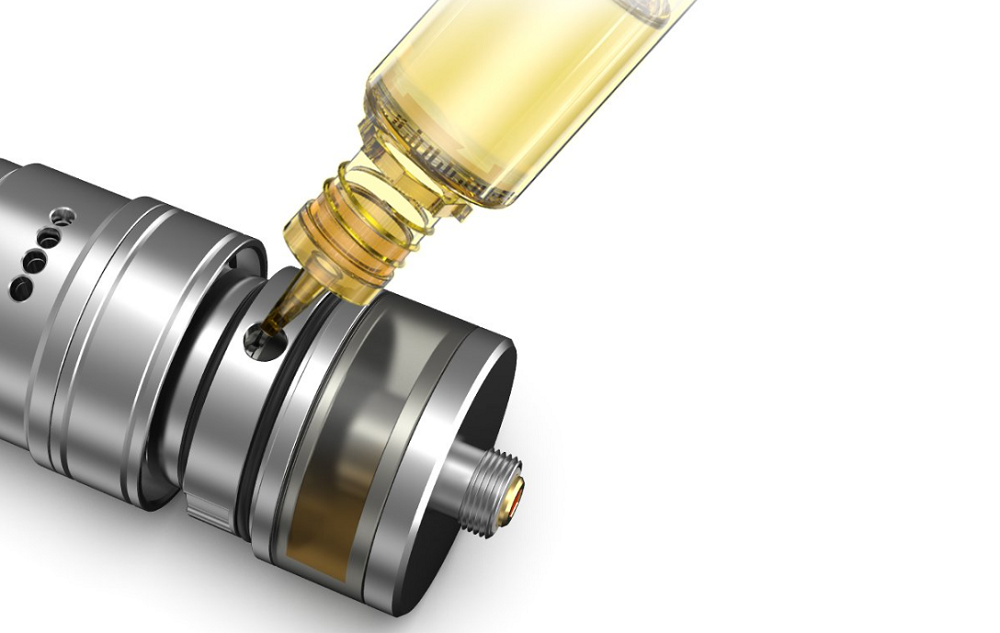 The airflow also knows how to distinguish itself. Located on the upper part, it is adjustable and has 4 air inlets of 1.5 mm in diameter. The fast and direct flow provides an excellent rendering of flavors. Moreover, the manufacturers had the smart idea to provide a second airflow ring. It has 2 long horizontal openings separated by a solid part. In addition to offering a more aerial vape, it transforms the Kumo by gratifying it with a modern appearance, an aesthetic that gives pride of place to steel and circular shapes.
And since we talk about airflow, it is the opportunity to mention the technology of liquid supply patented by Steampipes. Indeed, the Kumo RDTA is equipped with a system through which the liquid can rise to the cotton. Thus, the latter is permanently soaked, which eliminates any risk of dry hit.

Finally, it is essential to point out the single-coil build deck placed above the tank. It is able to accommodate large coils, includes 2 mounting posts and allows for easy assembly.

To sum up, the Kumo RDTA is a high quality product, one that offers a dense vapor and gives away exquisite flavors.
So if the user is experienced, if he likes direct inhalation restricted – which is what this rebuildable is mainly intended for – he will be pleased to have the Kumo RDTA of Aspire and Steampipes, atomizer that results from an association of brands as prestigious as competent.
Contents :
1x Kumo RDTA tank (3,5ml)
1x spare drip tip
1x 510 adaptator
1x spare tank tube (3,5 ml)
2x spare screws
1x Allen key (1,5 mm)
1x Allen key (2 mm)
1x AFC Ring
1x AFC Locking Ring
1x O-rings Pack
1x User Manual