Vaporesso has accustomed us to its exceptional range of the sweet name Swag. Now it is expanding this fabulous family with the Swag PX80 kit. Like its colleagues, this kit is compact and ergonomic. But with its dimensions of 99.7 x 47.9 x 25.1 mm, it remains smaller than the Swag 2. So it can easily follow you in your daily spraying activities. As for its design, it is totally optimised and offers slightly rounded edges.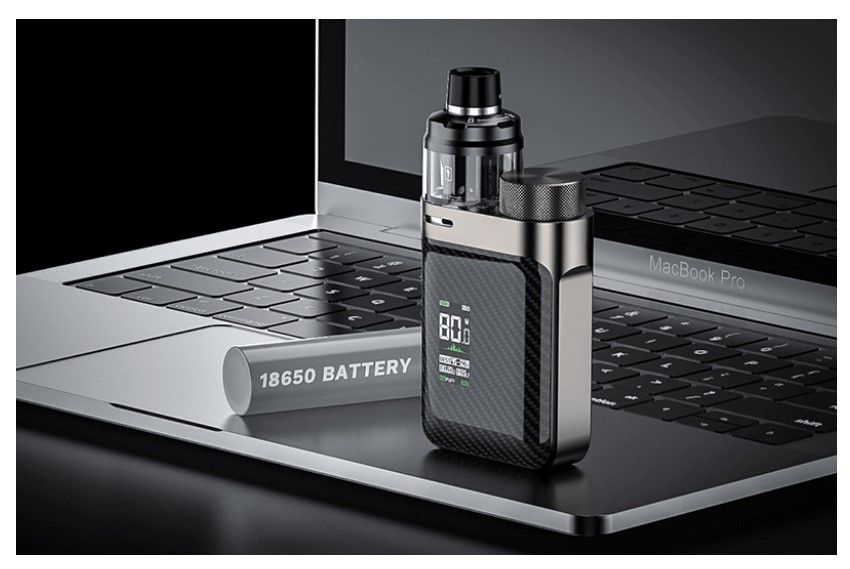 The Swag PX80 kit works with a 18650 size battery (not supplied) which will allow an excellent autonomy. To change batteries, simply unscrew the cap on the top of the battery. You can of course recharge it using a USB type-C cable, but we advise you to use an independent battery charger to optimise the life of the kit.

Managed by the Axon chipset, the Swag PX80 kit is capable of developing up to 80W of power in 0.001 sec. On one side of the kit, you will find a 0.96″ colour TFT screen which will clearly display all the information necessary for its correct operation. Moreover, this screen is located under an IML panel. When it is switched off, it is therefore completely invisible. It is also possible to customise this screen by changing the display colour.
This kit offers different operating modes. First there is the Smart VW mode which allows it to recognise the installed resistance and then automatically change the power according to its value. It also has the traditional VW and VV modes.

The Swag PX80 box is associated with a 4ml PX80 cartridge. It will thus offer excellent autonomy in e-liquid to vaporize during a whole day. To fill it, simply lift the silicone tab on the base.
Of course, it has an air flow system that can be adjusted by turning its base. This way, you can obtain a more or less tight draft.

The main advantage of this cartridge remains the possibility of replacing the resistor without having to empty its tank. It doesn't look like much, but this little innovation makes all the difference. Simply line up the markers at the top cap so that the fluid inlets close tightly and then push the drip tip to bring out the resistor.

Finally, this kit works with Vaporesso's GTX coils. It is delivered with a GTX Mesh coil of 0.2ohm and a GTX Mesh resistor of 0.3ohm.
Features
Dimensions: 99.7 x 47.9 x 25.1 mm
Battery: one 18650 rechargeable battery (not included)
Charging via USB type-C port
Managed by the Axon chipset
Mode of operation : VW / VV / Smart VW
Power range: 5-80W
Customisable 0.96″ colour TFT screen
Load current: 5V/2A
Capacity : 4ml
Filling from below
Adjustable air flow control
Supplied coils: GTX Mesh coil 0.2ohm (45-60W) / GTX Mesh coil 0.3ohm (32-45W)
Compatible coils: GTX Vaporesso coils
Adjustable air flow system
Complete set of electronic protections
Contents
1 x box Swag PX80
1 x 4 ml PX80 cartridge
1 x GTX Mesh coil 0.2 ohm
1 x GTX Mesh coil 0.3 ohm
1 x USB cable
1 x warranty card
1 x user manual