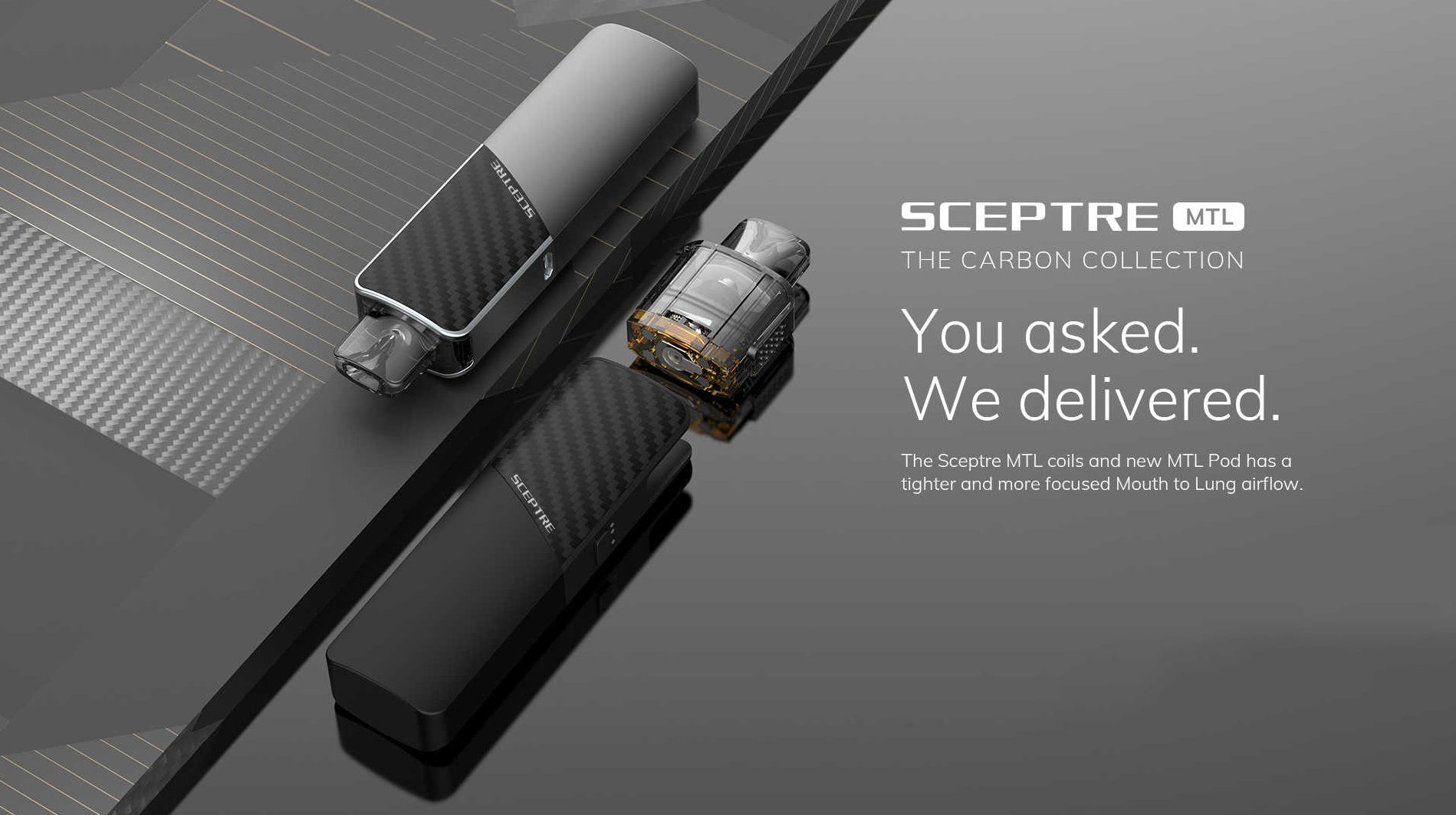 Innokin returns with a compact and ergonomic pod kit. The Sceptre MTL kit is totally oriented towards the MTL pod, unlike the Sceptre kit which also offers the RDL pod. This kit has dimensions of 106.8 x 29 x 18 mm. Entirely made of zinc alloy, it will accompany you in your daily life by slipping easily into a pocket or bag.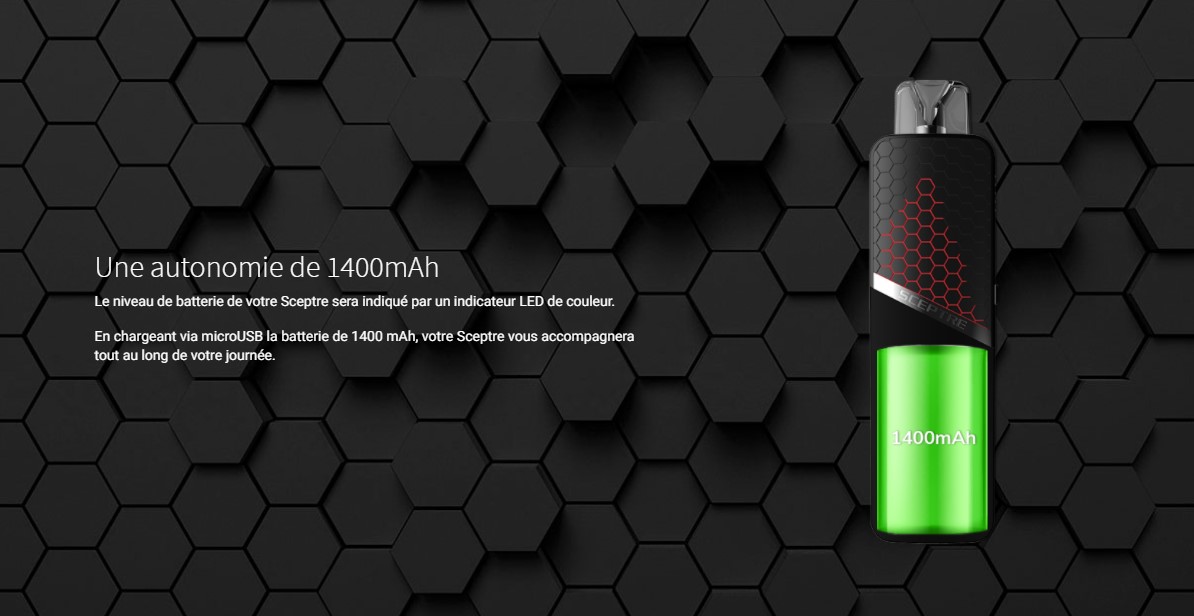 Its colourful, simple but elegant design is not its only asset. It incorporates a 1400mAh battery that provides sufficient autonomy to vaporize for an entire day. Of course, it will be recharged via a micro-USB cable supplied in the kit. To easily understand the remaining battery level, the Sceptre kit has a tricolour LED indicator above its main button. In green, more than 50% of the battery is left. In blue, between 49 and 10% and in red less than 10% of the battery.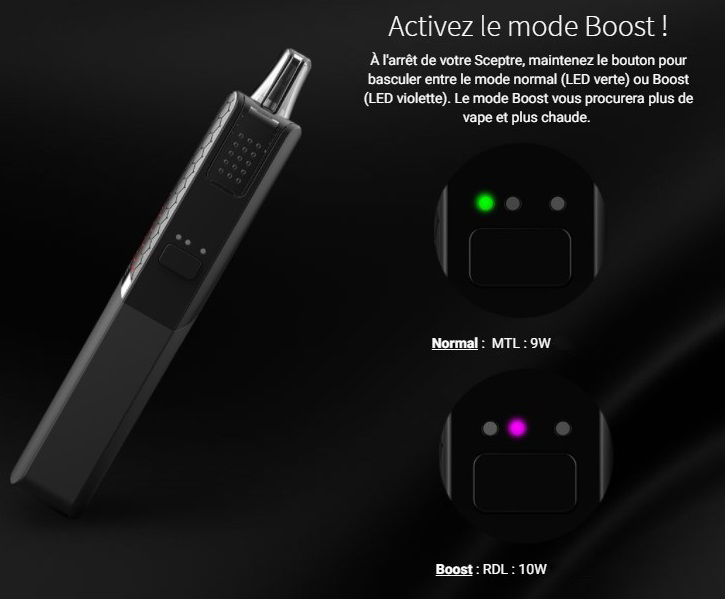 The Sceptre kit offers you the choice of activation either by direct inhalation or by using the main button. It offers a power adjustable between 9 and 20W according to two power levels. Between the Normal level, symbolised by a green LED, and the Boost level, symbolised by a purple LED, you will have the choice to adapt the vape to your taste. To choose the power level, simply press the main button three times.
The kit is delivered with two resistors and the power varies according to the integrated resistor. With the 1.2 ohm MTL resistor you will get 9W in Normal mode and 10W in Boost mode. On the other hand, with the RDL resistor in 0.5 ohm, you will get 18W in Normal mode and 20W in Boost mode.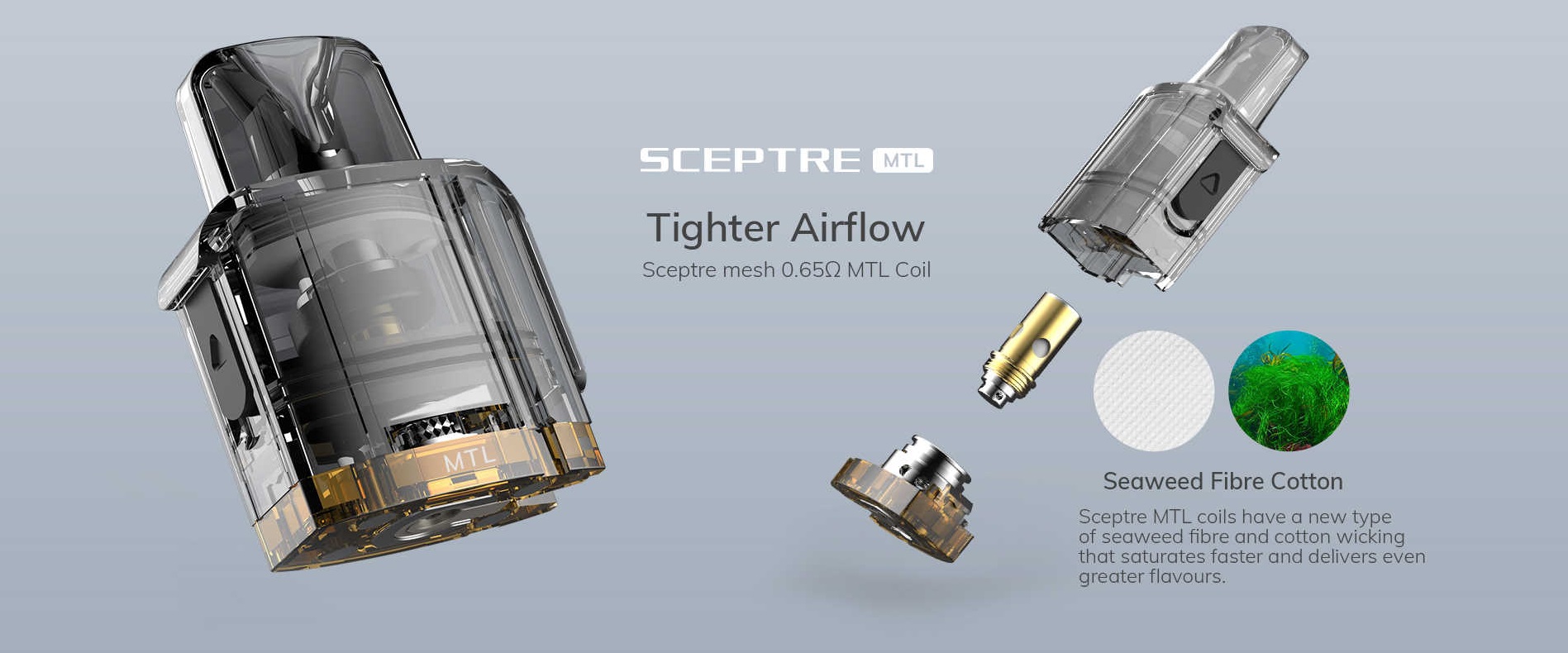 The Sceptre kit works with a 3ml capacity cartridge that will be filled simply by lifting the silicone cap on the side. The airflow system is tighter than the previous version of the Sceptre but remains adjustable at the base. In addition, a final white LED will illuminate inside the kit when you install the cartridge to indicate that the cartridge is properly installed. It also makes it easier to see the remaining liquid level.
Finally, the Sceptre kit comes with two coils, one MTL of 0.65 ohm or a second MTL of 1.2ohm.
Features
Dimensions: 106.8 x 29 x 18 mm
Material: zinc alloy / PCTG
Built-in battery: 1400mAh
Charging via micro-USB cable
Operating mode: adjustable power
Power range: 9-20W
Resistance range: 0.5-3.5ohm
Max. current: 8A
Load current: 5V 1A
Indicator lights: alert, mode, battery level, fluid level
Auto power off 10s
Capacity : 3ml
Lateral filling
Adjustable air flow system
Coils supplied: MTL coil 1.2ohm, MTL coil 0.65ohm
Complete set of electronic protections
Contents
1 x Sceptre kit
1 x MTL Mesh coil 0.65 ohm (pre-installed)
1 x MTL Mesh coil 1.2 ohm
1 x USB cable
1 x warning booklet
1 x user manual