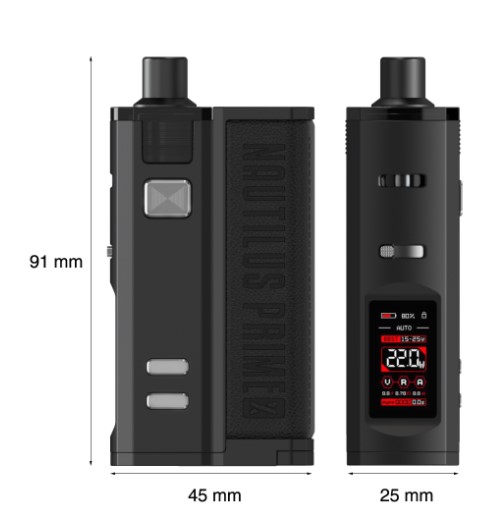 Aspire offers you its brand new pod kit with impressive capacities. The Nautilus Prime X kit is obviously in line with its predecessors. With dimensions of 91 x 45 x 25 mm and a weight of 110g. With its rectangular format it is relatively ergonomic.
The Nautilus Prime X kit uses a 18650 battery (not supplied). Thanks to it, the user will be able to enjoy excellent autonomy. To recharge it, you can use the USB type-C cable contained in the pack but we advise you to use an independent battery charger in order to maximise the life of your equipment.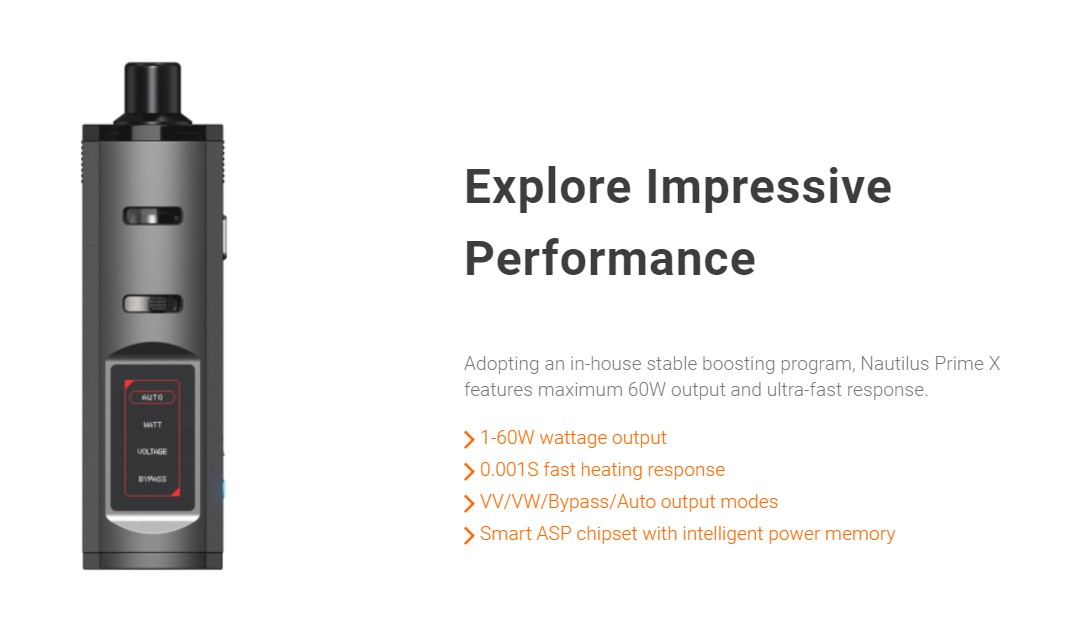 The Nautilus Prime X kit includes a 0.96″ colour TFT screen which makes it easy to view all the operating modes it offers as well as the remaining battery level. It is possible to adjust the brightness level of the screen as well as the display colour. Moreover, it offers adjustable power modes up to 60W, variable voltage up to 8.4V, as well as Bypass and Auto, which automatically recognises the installed resistance and automatically adjusts the power. These modes can be modified thanks to the two variation buttons located on its side panel.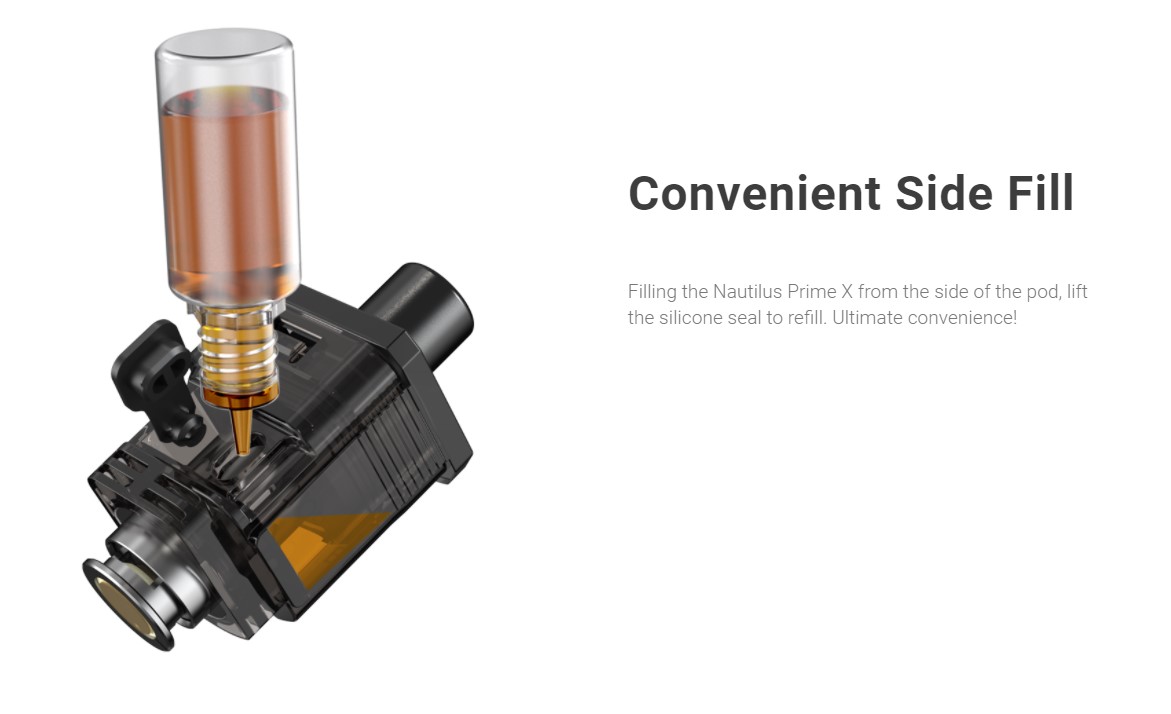 The Nautilus Prime X kit uses a cartridge of the same name. The sprayer can choose between a cartridge compatible with Nautilus coil and a second cartridge compatible with BP coils. Depending on the heater chosen, the cartridge capacity will be different. Thus, with a cartridge with a Nautilus coil, the capacity will be 4.5ml; with a cartridge that integrates a BP coil, the capacity will be 4ml. In any case, these cartridges will be filled from the side by removing the silicone cap that closes its filling hole.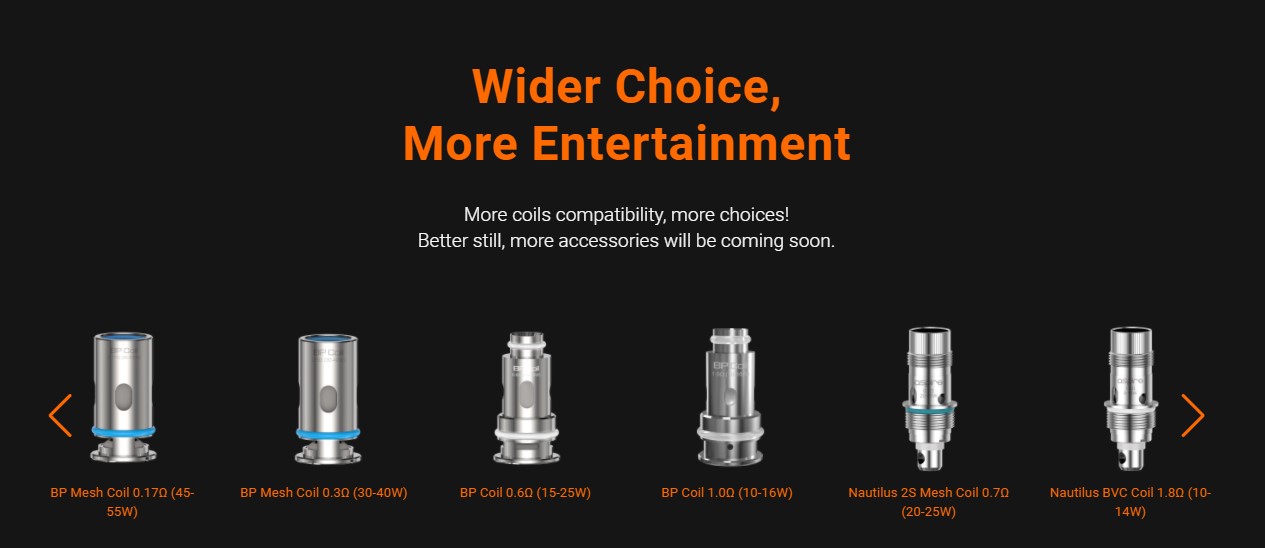 Thus, Nautilus Prime X cartridges are compatible with either Nautilus or Aspire BP coils. The cartridge for Nautilus heaters is therefore delivered with a pre-installed coil 0.7ohm. The cartridge for BP heaters is delivered with a pre-installed coil of 0.3ohm.

Finally, the Nautilus Prime X kit offers a latest-generation adjustable airflow system. In short, it is wider and more precise and will allow you to easily obtain a more or less tight draw.
Features
Dimensions: 91 x 45 x 25 mm
Weight: 110g
Battery: one 18650 rechargeable battery (not included)
Modes of operation : VV / VW / Bypass / Auto
Power range: 1-60W
Voltage range: 0.5-8.4V
Coil range: 0.1-3.5ohm
Customisable 0.96″ colour TFT screen
Capacity: 4.5ml /4ml
Lateral filling
Compatible coils: Nautilus coils / BP coils
Coils supplied: BP Mesh coil 0.3ohm (30-40W) / Nautilus Mesh coil 0.7ohm (20-25W)
Adjustable air flow system
Load current: 2A
Charging via USB type-C cable
Complete set of electronic protections
Drip tip 510
Contents
1 x mod Nautilus Prime X
1 x Nautilus Prime X 4.5ml cartridge with pre-installed Nautilus Mesh coil 0.7ohm
1 x Nautilus Prime X 4ml cartridge with pre-installed 0.3ohm BP coil Mesh
1 x user manual
1 x USB type-C cable