An aesthetic full of style and originality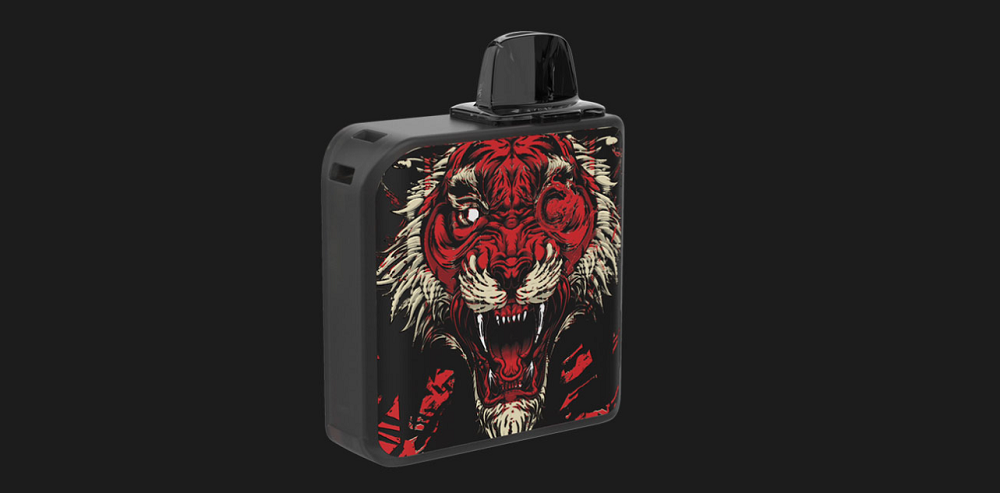 The Jellybox Nano X is a visual success. Rincoe wanted to create an elaborate, even original aesthetic, and they have succeeded in doing so. The Jellybox Nano X pod is made of PCTG and polycarbonate. It has a square shape with rounded corners, measures 68.2 x 54 x 12 mm and weighs only 75 g. This makes for a very compact device that fits in one hand and is very light. With a format like this, the user will have no difficulty in transporting it and will be able to vape discreetly. Carrying the Jelly is made even easier by the fact that Rincoe provides a neck strap for carrying it around the neck.
But the aesthetic qualities of the Jellybox Nano X go even further. Rincoe is to be commended for its side panels, which feature beautiful plastic designs. These panels are replaceable, breathable and offer good texture as well as protection against scratches. The vaper will appreciate this.
Undeniable technical know-how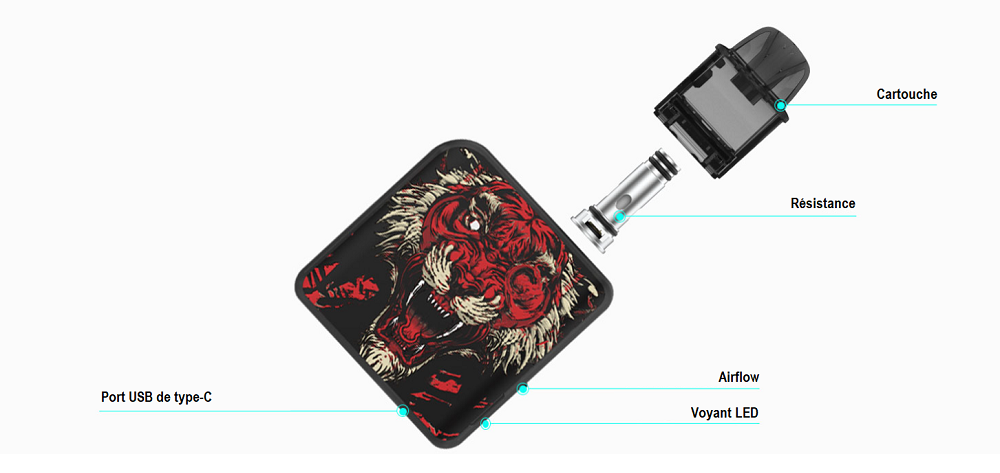 Rincoe continues to demonstrate its technical expertise with this Jellybox Nano X with chipset. The integrated battery provides 1000 mAh of battery life, which is enough for one day. A USB Type-C cable is included for fast charging. In addition, an LED indicator on the front panel shows the battery's charge level in several colours :
A red light flashes when the charge level is between 5 and 30%
A blue light flashes when the charge level is between 30 and 60%
A green light flashes when the charge level is between 60 and 100%
A green light stabilises when the charge level is at 100%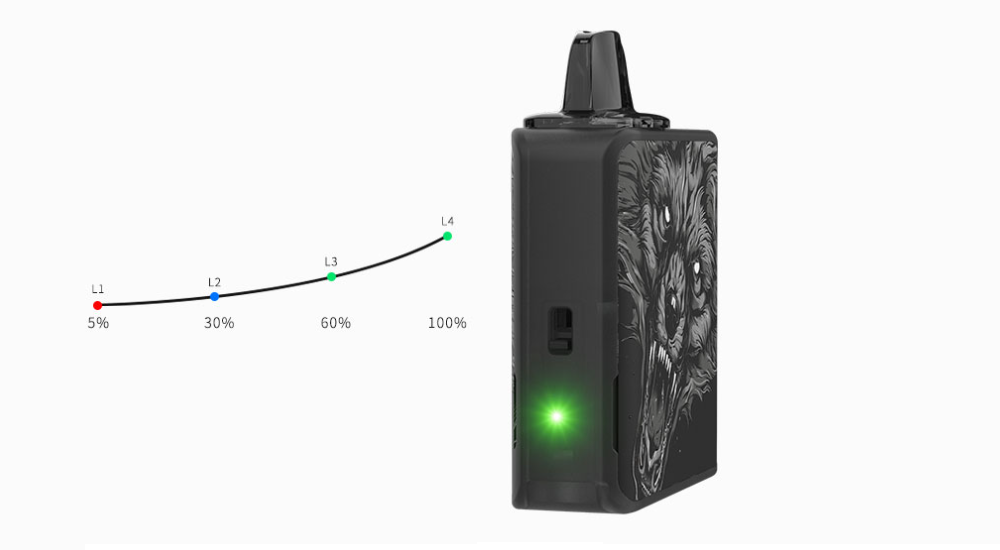 The power, on the other hand, varies between 10 and 30W. It is therefore a moderate power that is perfect for anyone who is new to vaping. The voltage range is between 3.2 and 4.2V.
In passing, it should be noted that the power is automatically adjusted and that the draw is also automatic. Another plus to attract the favour of beginners.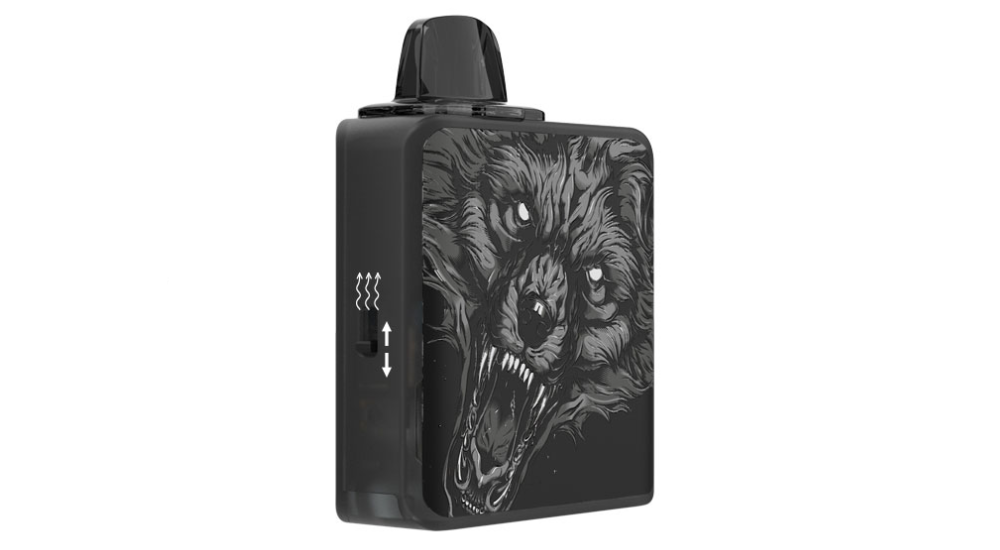 On the front, the user will also find an adjustable airflow while the cartridge – which is magnetically attached – offers a capacity of 2.8 ml and is filled from the side. And as for the coils, there is compatibility with the Jellybox Nano coils. 2 are supplied :
A 1 ohm coil (pre-installed)
A 0.5 ohm coil
While the 0.5 ohm coil allows RDL vaping with freebase liquids, the 1 ohm coil is ideal for MTL vaping with nicotine salts. Note that the resistance range is between 0.3 and 3 ohms.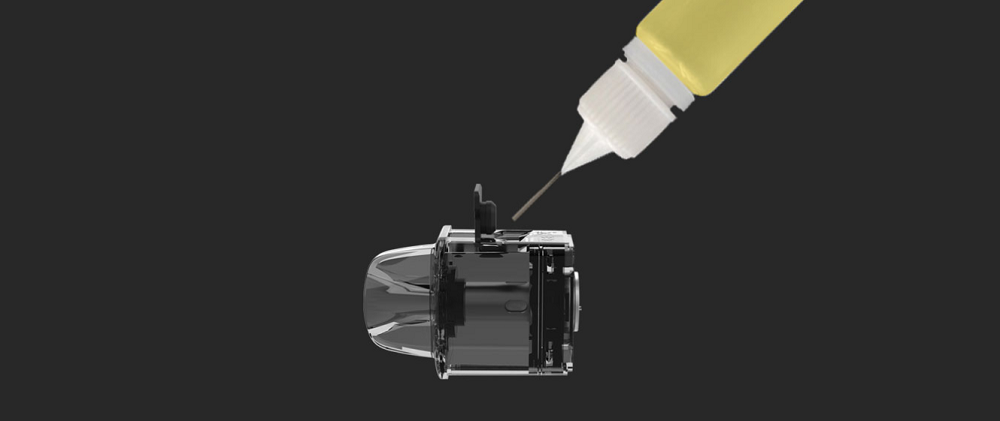 Finally, thanks to the chipset, there are 6 safety features that accompany this device. Among them, there is a device against too long inhalation (more than 8 seconds), a device against overheating, a device against overloading and a device against short-circuit.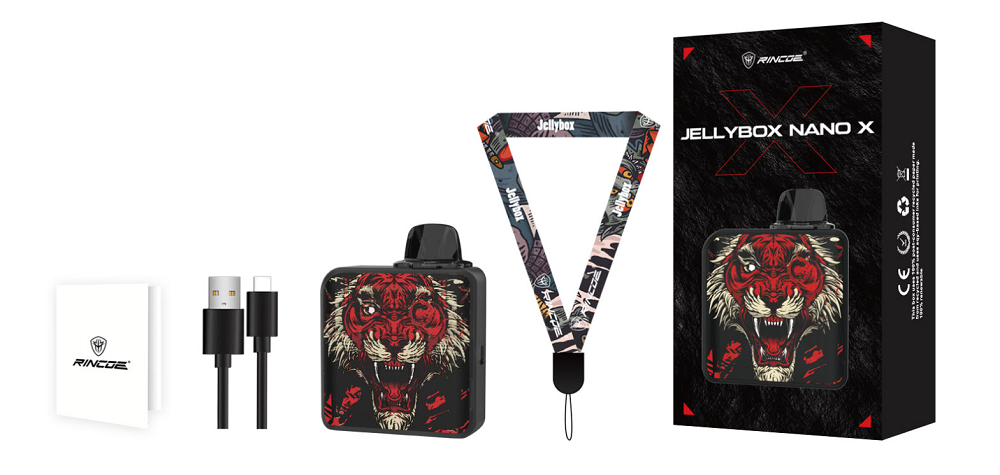 This Jellybox Nano X from Rincoe is a great piece of equipment, an electronic cigarette that is easy to use, delivers great flavours and will win the hearts of beginners. The manufacturer achieves a flawless and the world of vape is pleased to welcome this new model.
Contents :
1x Jellybox Nano X
1x cartridge (Mesh 1 ohm coil)
1x type-C charging cable
1x mesh 0,5 ohm coil
1x certificate card
1x warranty card
1x lanyard
1x user manual