The user will first be struck by the aesthetic qualities of the Jellybox Nano. Designed in zinc alloy, PCTG and polycarbonate, this kit has a plastic body, both solid and transparent. How not to be seduced by this appearance that is out of the ordinary, by this transparency that leaves the mechanism of the device visible, by this design as splendid as rare ? Then, to crown this aesthetic excellence, one side displays the Rincoe brand logo while a line of 4 LED bulbs lights up in white, blue or red to embellish the whole.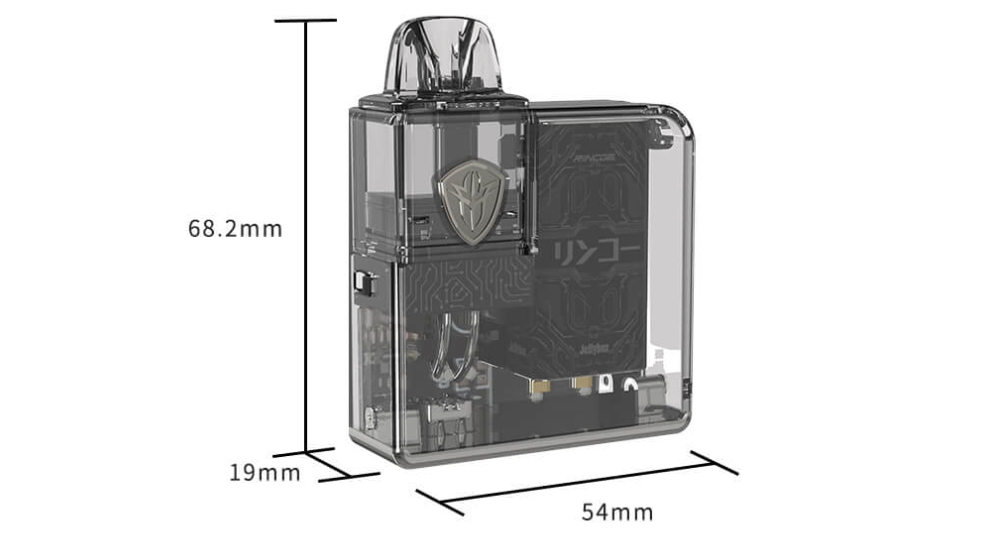 The Jellybox Nano, it is also a weight of 70 g, dimensions of 68.2 x 54 x 19 mm and a body close to the square with rounded corners. It will be easy to hold and carry, especially since a lanyard (supplied) allows you to wear it around your neck.

In addition to being a beautiful device, the Jellybox Nano is a device with undeniable technical qualities. It has a built-in battery whose 1000 mAh provide enough autonomy for one day. This battery is rechargeable via a USB type-C cable (supplied) and an LED indicator informs of its charge level by using 3 colors :
Red for a charge level between 5 and 30%
Blue for a charge level between 30 and 60%
Green for a charge level between 60 and 100%
The range of power, as for it, extends between 10 and 30 watts. The cartridge offers a capacity of 2.8 ml and the airflow is adjustable. Add to that a leak-proof design and, above all, an excellent rendering of flavors thanks to which the moments of vape will be most delicious.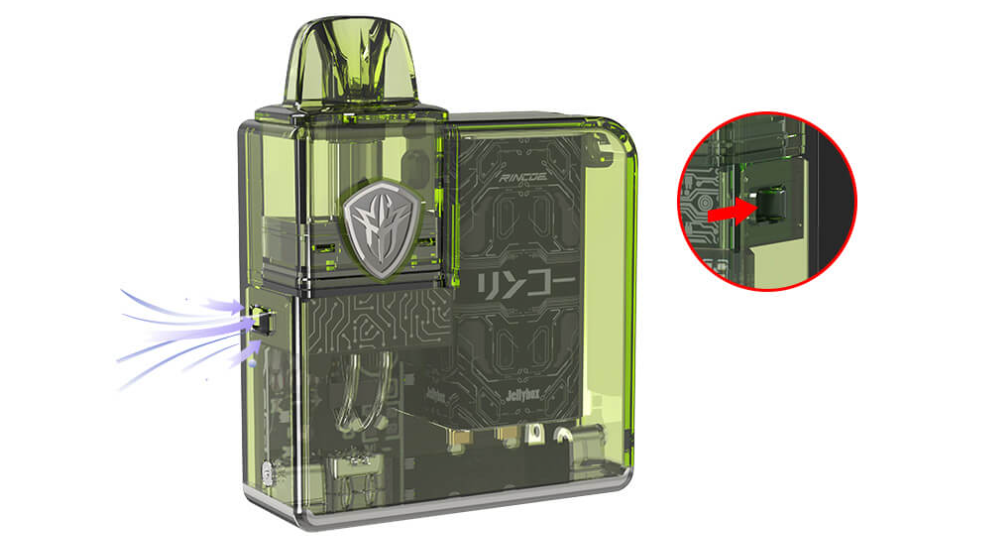 With the Jellybox Nano, 6 protections are offered to the user for a safe use of the device. He will find among them a protection against short circuits, a protection against overheating and a protection against overload.
As for the coils, the kit accepts those whose value is between 0.3 and 3 ohms. 2 are provided :
A Mesh coil with a value of 1 ohm (preinstalled) for a MTL draw (e-liquids in nicotine salts)
A Mesh coil with a value of 0.5 ohm for a draw RDL (e-liquids freebase)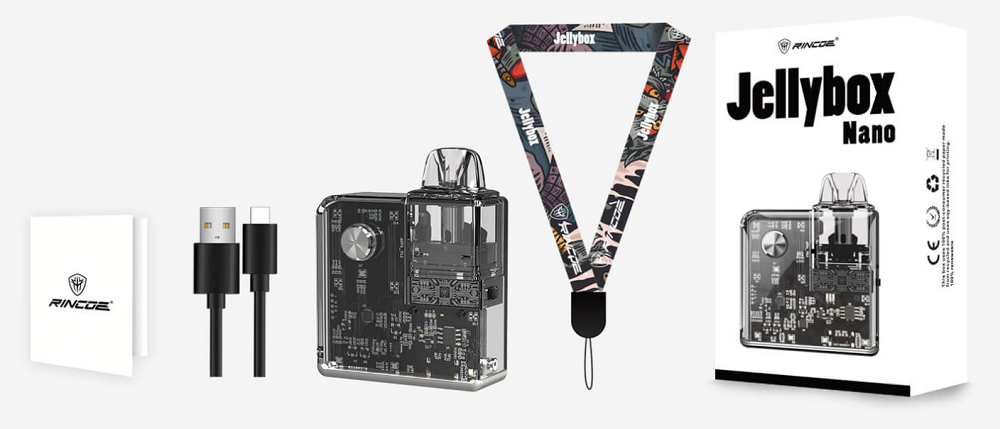 The kit Jellybox Nano of Rincoe is distinguished on many aspects and its qualities make it a device of first choice, which more is available in several colors among which the user can choose when buying. He will opt for the one that best suits his aesthetic tastes.
Content :
1 x Rincoe Jellybox Nano Pod Mod Kit




1 x Rincoe Jellybox Nano Cartridge (Mesh 1.0 ohm coil)




1 x Rincoe Jellybox Nano Mesh 0.5ohm Coil




1 x Type-C Charging Cable




1 x Certificate Card




1 x Warranty Card




1 x User Manual




1 x Lanyard