A pod with ideal dimensions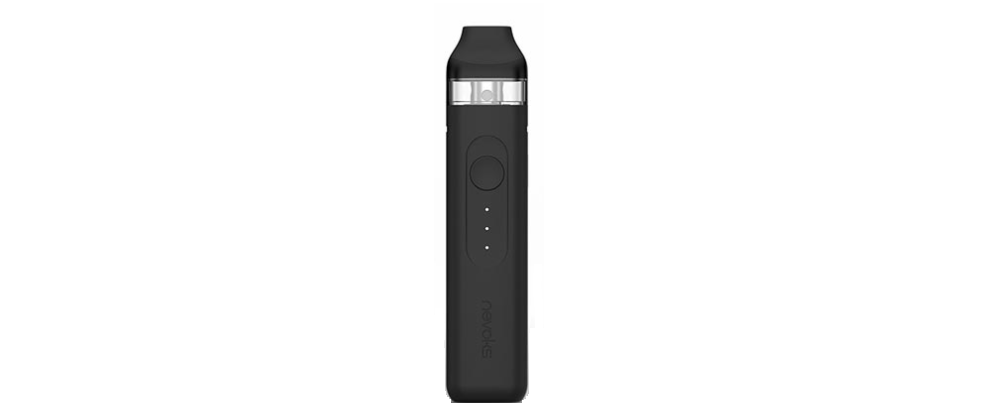 Nevoks has deployed his talents to achieve this Feelin kit. And we can only admire the result. The Feelin kit measures 99.5 x 22 x 18 mm and weighs a whopping 42 g. So we are in the presence of a kit easy to carry, easy to put in a pocket, in a bag or in a handbag. Secondly, it is a slim kit, designed in polycarbonate and ABS and whose battery has rounded lines that make it easier to hold.
A technical success
In terms of technicality, the Feelin kit is also a success. It offers 2 days of autonomy to the user thanks to its built-in battery of 1000 mAh. This battery is recharged through a USB type-C cable (provided), and this in 50 minutes. It also offers 3 voltage settings, namely :
3.1V which provide 18 and 10W respectively with 0.6 and 1 ohm coils
3.4V which provides 19.5 and 11.5W respectively with 0.6 and 1ohm coils
3.7V which provides 22 and 13W respectively with 0.6 and 1 ohm coils
About the power, it varies between 10 and 22W. A moderate power that will suit users of an intermediate level.
On the other hand, the user will appreciate the simplicity of use of this device. He will have no adjustment to make. The battery automatically detects the coil and he will have the opportunity to choose between vaping by pressing the main button and vaping by auto draw. As for the airflow, it is located at the top of the battery. It is adjustable depending on the position of the pod.

Finally, the kit is equipped with the NX Chip. It offers 7 protections, including protection against overloads, protection against overheating and protection against excessive discharge of the battery.
A pod full of advantages

The Feelin pod accompanies this pod. It is made of PCTG. It has a capacity of 2.8 ml. It is attached to the battery by magnetic connection. It is filled on the side and has a drip tip in TPE that provides comfort to the lips. Finally, it accepts the SPL-10 Mesh coils of Nevoks. 2 are provided :
A SPL-10 Mesh coil with a value of 0.6 ohm (18-22W)
A SPL-10 Mesh coil with a value of 1 ohm (10-13W)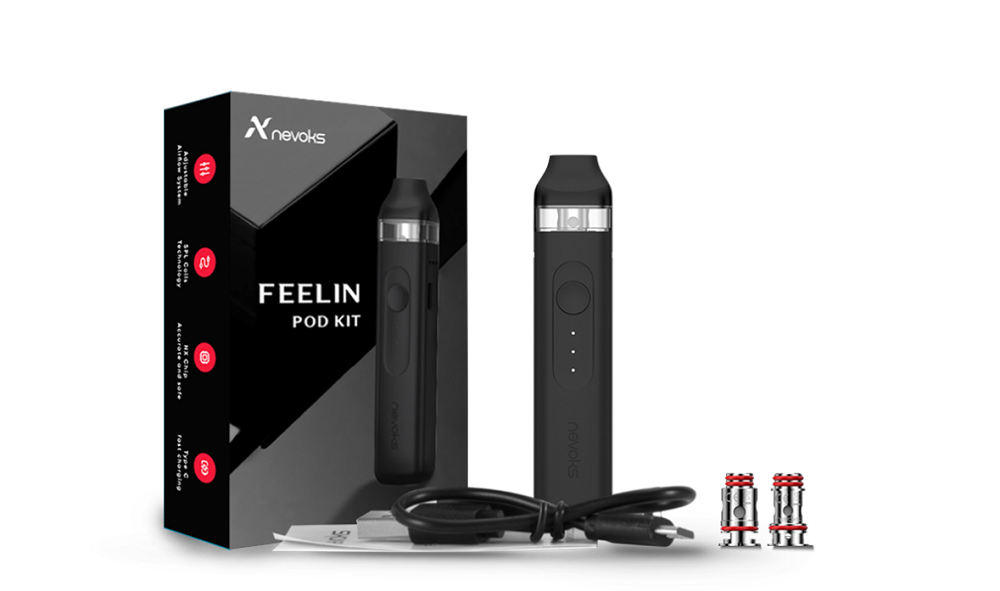 With the Feelin kit from Nevoks, the user will not be disappointed. He will be able to indulge in MTL or RDL vape and will taste flavors rendered to perfection.
Contents :
1x Feelin battery (1000 mAh)
1x Feelin empty pod (2,8 ml)
1x SPL-10 Mesh coil de 0,6 ohm
1x SPL-10 Mesh coil de 1 ohm
1x warrany card
1x user manual