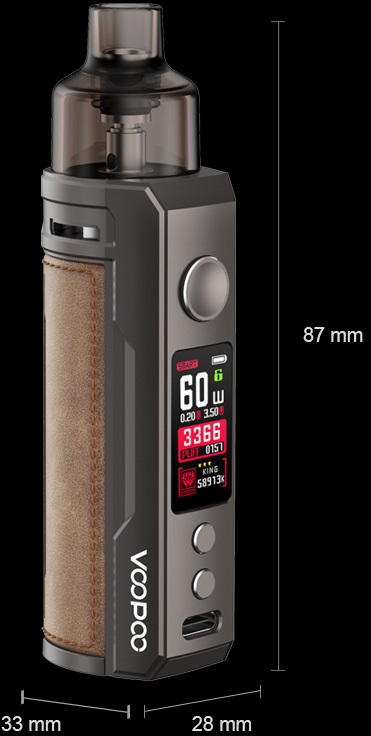 With the success of Voopoo's Vinci kits, it seemed difficult for the brand to do better. And yet, the Drag S seems destined for the same success! Innovative, intuitive, and very efficient, it adapts to all vaporizers whatever their level. With dimensions of 87 x 33 x 28, the Drag S is compact enough to fit easily in a pocket. In addition, its zinc alloy and leather design gives it an elegant and original look. And thanks to the use of leather, the kit will not fear scratches or fingerprints!
In terms of operation, the Drag S kit is designed to be simple while offering a high-performance system. Managed by the Gene.TT chipset, it will be able to develop 60W in only 0.001 s. and thus allows a faultless reactivity. In the same way, its 2500 mAh of autonomy will allow good sessions before having to reload the kit. This will be done quite quickly thanks to the micro-USB type-C cable supplied.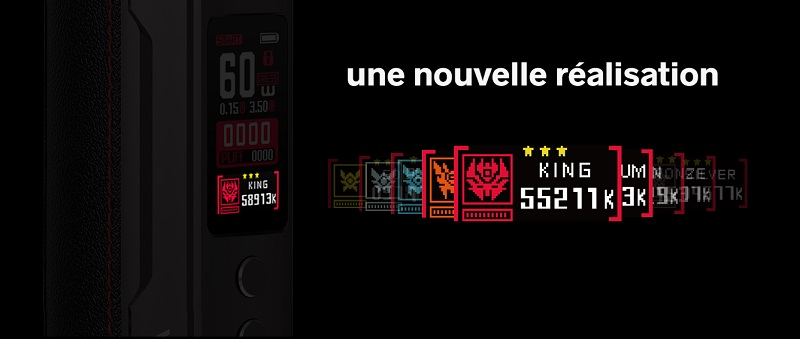 It is possible to adjust the power with the buttons located under the screen but it is also important to know that the power will adapt automatically according to the resistance installed. Thus, the user only has to modulate according to his desires. Of course a puff meter is also available as well as a new "Score" mode. With this last one, the more your clouds will be important, the more your score will increase! You will unlock new levels until you reach the "King" level!
As on the Vinci kits, the triggering can be done automatically by simple suction or manually by pressing the main button. This system has already proven itself and will satisfy all vaporizers regardless of their preferences.
The Drag S is surmounted by a PCTG clearomizer that is as simple as it is practical. Its connection is magnetic but Voopoo has revealed working on a 510 adapter… So there is a 4.5 ml reservoir that simply fills from the bottom. But the big advantage of this clearomizer is without a doubt its airflow. Of course, this one is adjustable, but we can't find the eternal adjustable ring. No, Voopoo has opted for a very practical wheel system. The adjustment is thus simple and does not move an inch when the kit is stored in a pocket.

Finally, the Drag S kit will accept coils over a range between 0.1 and 3 ohms and that's good because the kit is compatible with all Voopoo's PnP coils, including the RBA base. In addition, two new resistors are included in the kit: a PnP-VM5 Mesh in 0.2 ohm (32-40W) and a PnP-VM1 Mesh in 0.3 ohm (32-40W). We also advise you to use an e-liquid with a low nicotine dose (< or = 10 mg.) in order to avoid a too powerful hit. This will give you an airy and tasty vapour while waiting to test all the Voopoo coils to find the one that suits you best.
Features :
Dimensions : 87 x 33 x 28 mm
Materials: Zinc alloy, leather, PCTG
Capacity: 4.5 ml
Autonomy: 2500 mAh
Chipset Gene.TT
INsta Fire 0.001 s.
Power range: 5-60W
Voltage: 3.2-4.2V
Coil range: 0.1-3 ohms
Mode : VW
Puff counter function
New "Score Ranking" mode
Vacuum or manual release
Compatibility with all PnP coil
Content
1 x Drag S battery
1 x Drag S pod (4.5 ml)
1 x PnP-VM1 coil 0.3 ohm
1 x PnP-VM5 coil 0.2 ohm
1 x USB cable
1 x chip card
1 x warranty card
1 x user manual