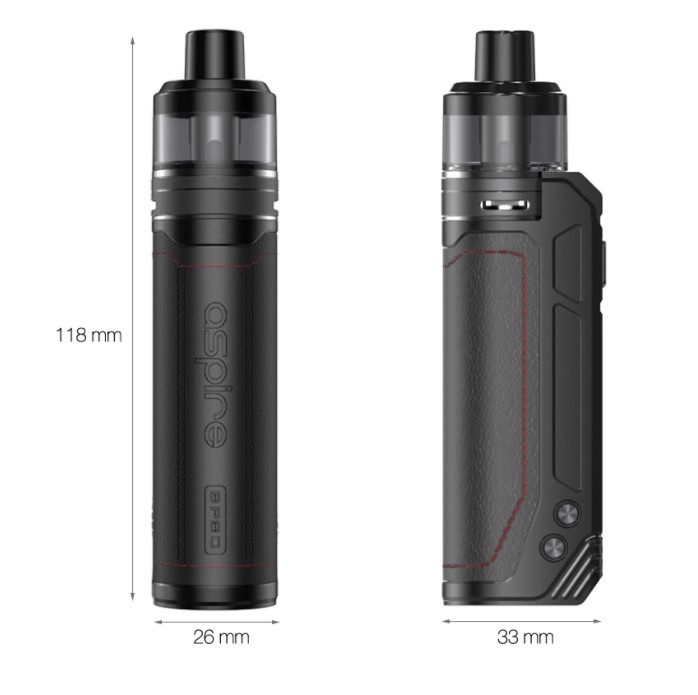 Aspire proposes the successor to its BP60 kit! The BP80 kit is relatively compact thanks to its dimensions of 118 x 33 x 26 mm for a weight of 155.3g. Entirely made of zinc alloy, it is also extremely strong. A chic detail, the BP80 kit has a leather covering on its back to offer a unique aesthetic.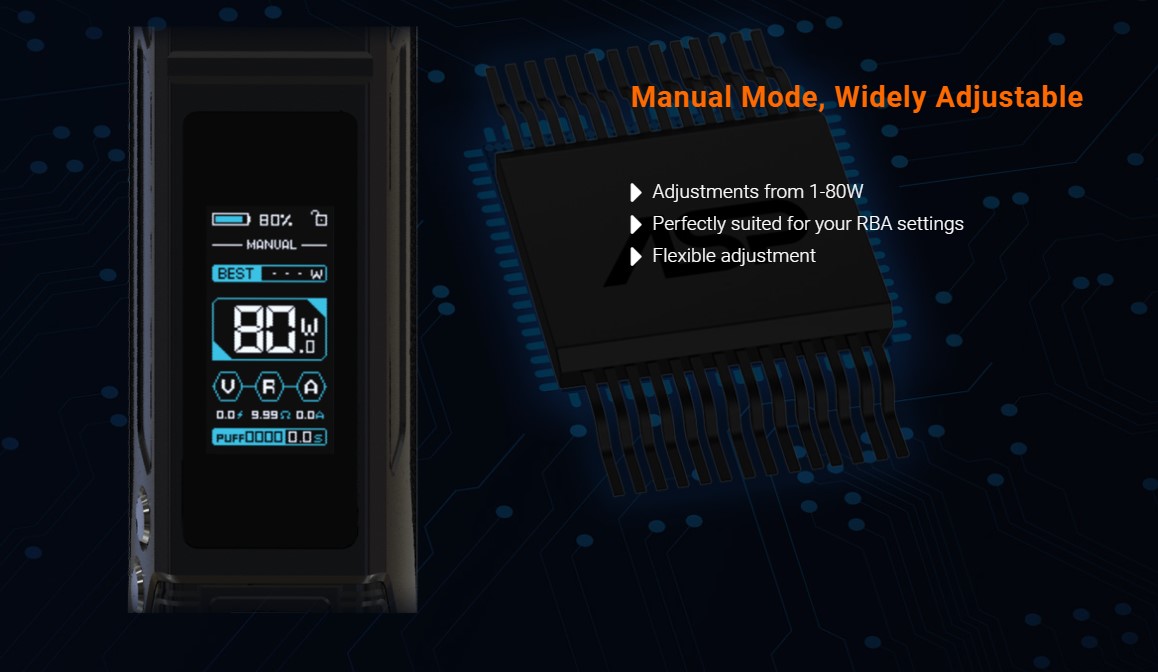 The BP80 kit is managed by Aspire's ASP chipset which allows it to develop up to 80W of power. The vaporizer will have the possibility to adjust it as it pleases thanks to a 0.96″ color TFT screen and variation buttons. This kit also has a Smart function that allows the box to recognize the value of the installed resistance and automatically adapt the power according to it. With these two modes of operation, the BP80 kit will meet the expectations of all steamer profiles, whether they are beginners or true experts.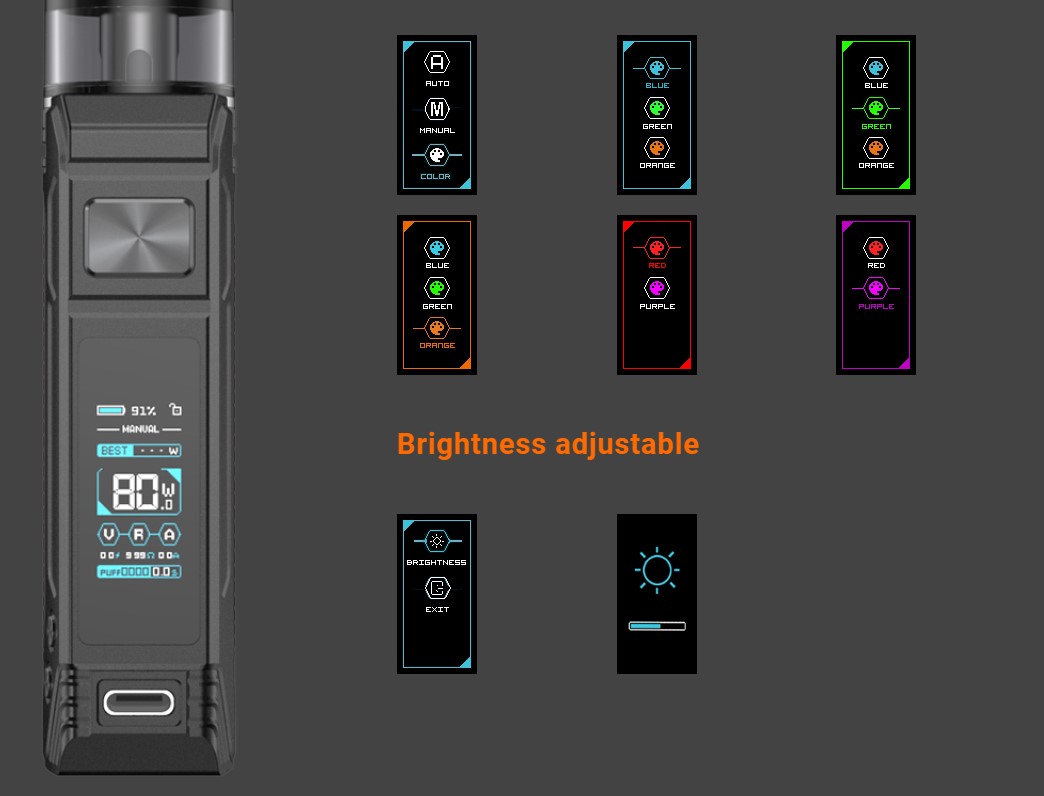 Its screen is particularly intuitive. Thanks to it, the user will benefit from all the information essential to its operation such as the selected power, the remaining battery level or the number of puffs. To further customize this kit, the vaporizer will be able to choose between six different colors for the display of their screen. It will also be possible to adjust the brightness of the screen, an exceptional option in the vape! Finally, it proposes to lock the buttons by pressing three times on the main button to avoid untimely adjustments.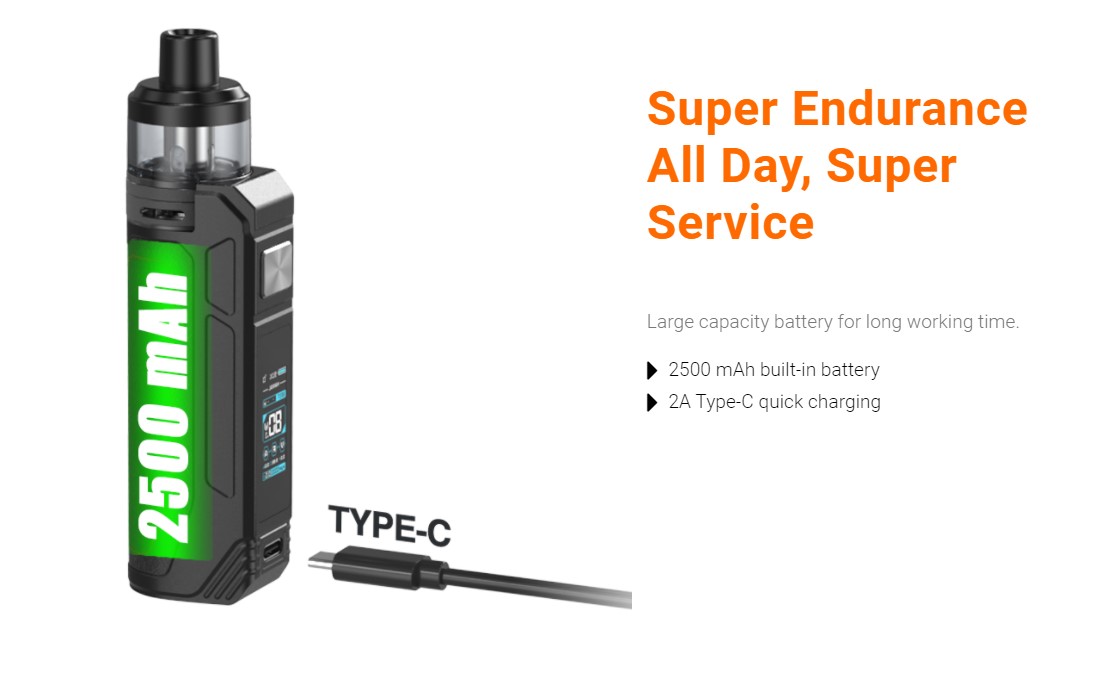 The BP80 kit integrates a 2500mAh battery that offers an excellent autonomy. To recharge it, simply use the USB type-C cable provided.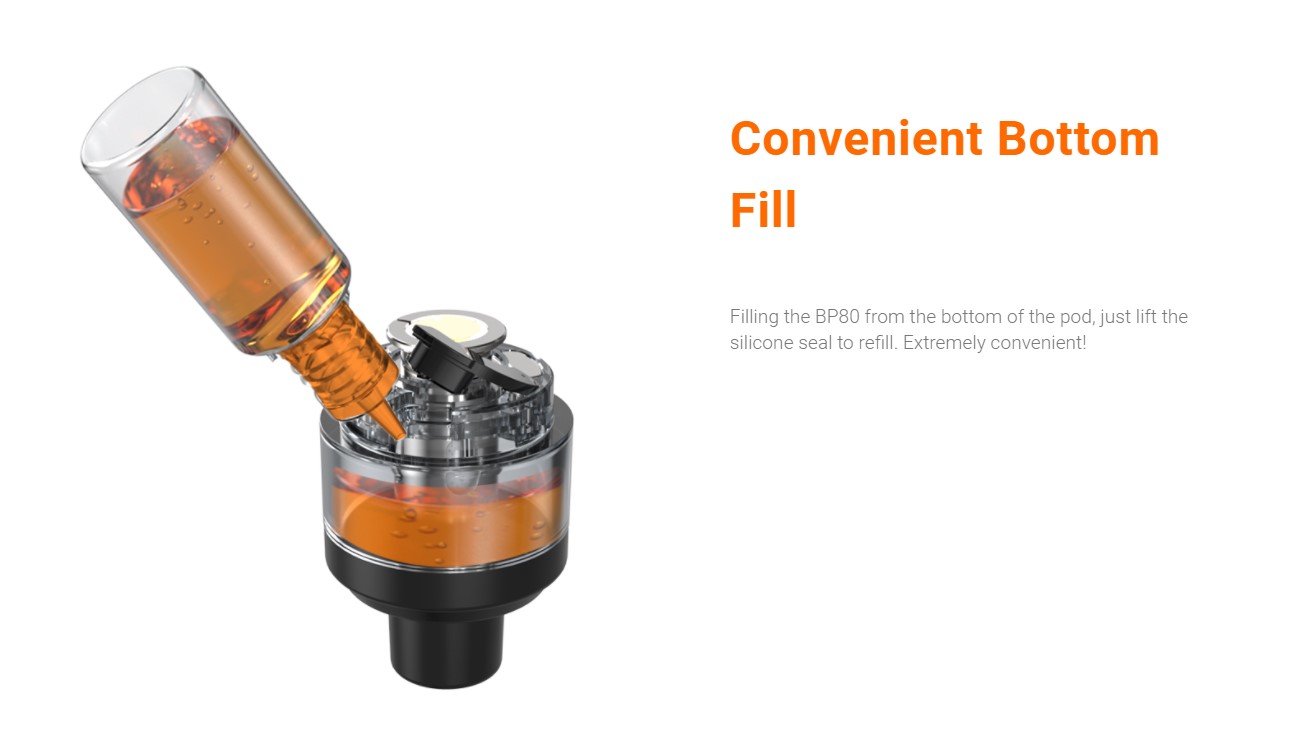 The BP80 kit works with a 4.6ml capacity cartridge that will be filled from the bottom. Indeed, it will be sufficient to remove the silicone cap to access the filling port.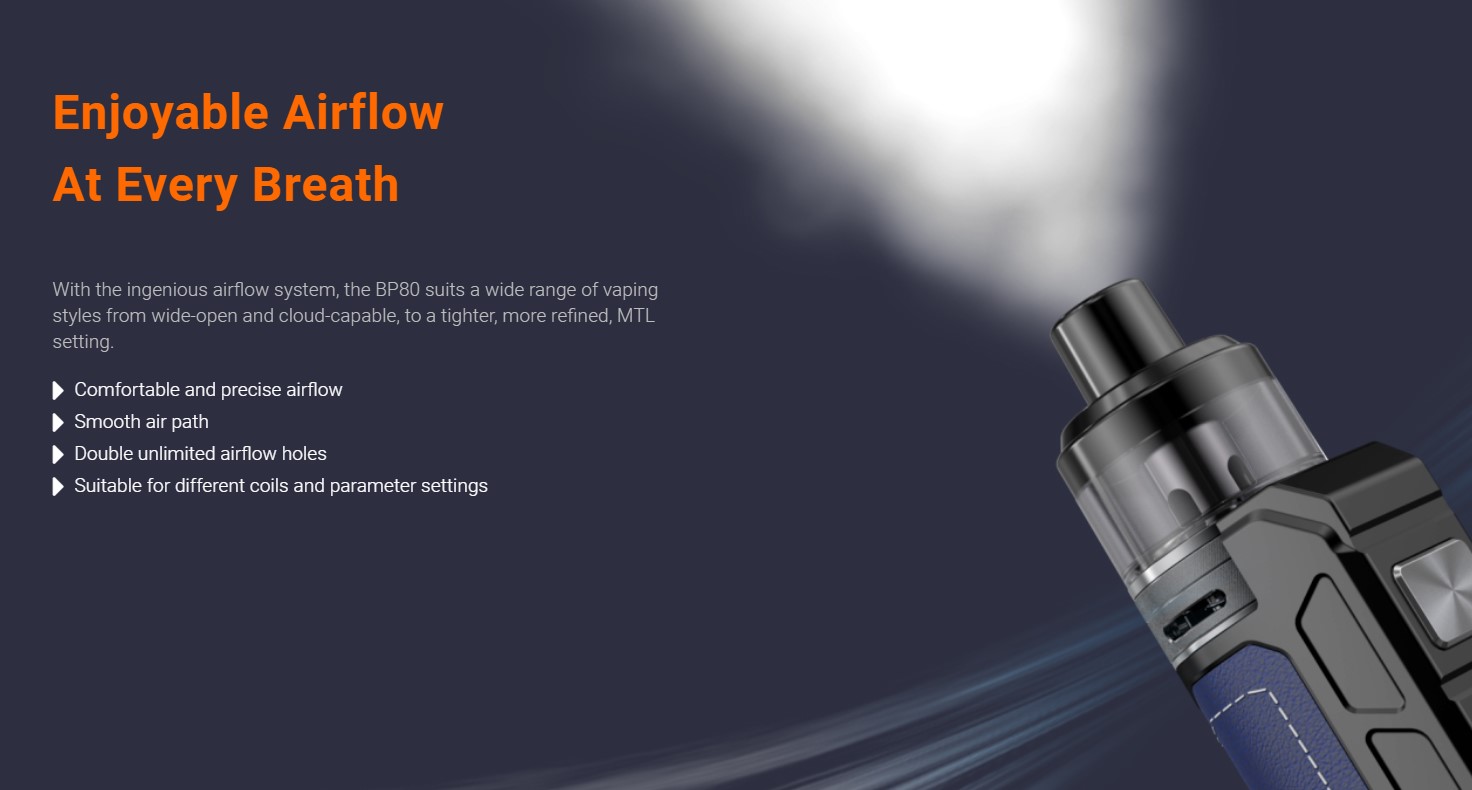 This cartridge also offers an adjustable air flow system thanks to the modular ring located on the top of the box. In this way, the vaporizer will obtain a more or less tight draft according to its desires.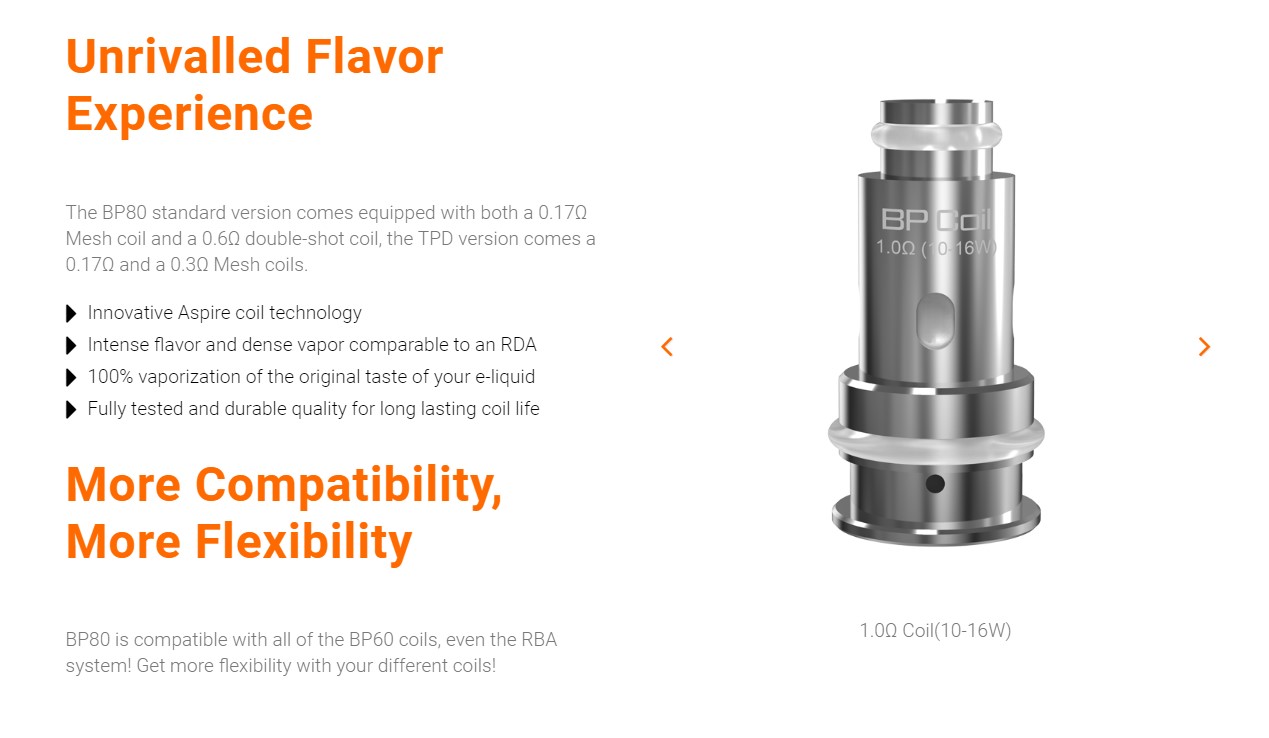 Finally, the BP80 kit is delivered with two BP80 resistors of 0.17ohm (44-55W) and 0.6ohm (15-25W). It is also compatible with all Aspire BP80 and BP60 resistors. It also proposes to install an RBA tray (not supplied) in single coil assembly for the amateurs of reconstructibles.
Features
Dimensions: 118 x 33 x 26 mm
Materials: zinc alloy / leather
Weight: 155.3g
Built-in battery : 2500mAh
Charging via USB Type-C cable
Maximum power: 80W
Power range: 1-80W
Modes of Operation : VW / Smart
Resistance range: 0.1-3.5ohms
Capacity : 4.6ml
Filling from the bottom
Compatible resistors: all BP80 Aspire resistors
Supplied resistors: 0.17ohm (44-55W) BP80 resistor / 0.6ohm (15-25W) BP80 resistor
Adjustable air flow system
Customizable 0.96″ color TFT screen
Child Safety
Complete set of electronic protections
Content
1 x mod BP80
1 x BP80 pod 4.6 ml
1 x resistor BP80 0.17 ohm
1 x resistor BP80 0.6 ohm
1 x USB Type-C cable
1 x user manual