Robustness and elegance

Innokin did not skimp on the means to manufacture this Kroma 217 box. Indeed, the main part is made of zinc alloy to ensure its solidity. The finishes are meticulous and chrome-plated, while the handle is covered with several materials including vegetable carbon fibre, fibreglass and leather. The result is a quality grip that is also a delight to the eye.
Furthermore, the box has dimensions of 86 x 45 x 30 mm. So, in addition to being elegant, robust and ergonomic, the Kroma 217 is compact and easy to carry.
An amazingly technical box
Thanks to the presence of a new generation chipset, the Kroma 217 has technical qualities to spare. Its maximum power is 100W. It is powered by an 18650 battery (with the use of an adapter), 20700 or 21700 and can be recharged with a USB type-C cable (included). However, it is recommended to use an external charger. And while a 20700 or 21700 battery provides 100W of power, an 18650 battery only provides 80W. Please note that the battery is not included in the package.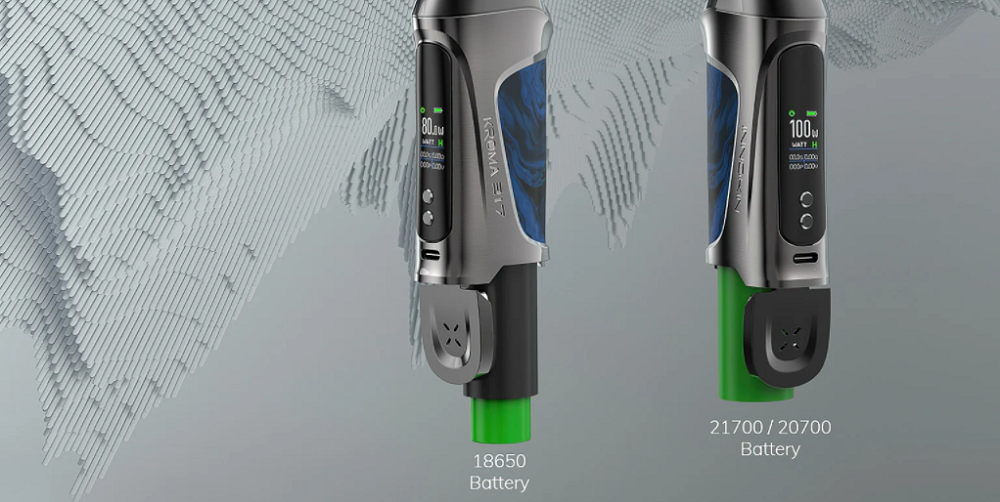 The Kroma 217 also has a lot to offer in terms of operating modes. It does not only offer the VW and VV modes. It even offers the Coil+ mode, which extends the life of the heater, and the Refresh function, which prevents the accumulation of residues.
Innokin has done well to place a large, easy-to-read OLED colour display on the front panel. This display allows the user to see various data concerning his or her vaping, such as power, voltage, number of puffs, puff duration, coil value, remaining battery level, power lock and unlock.
Finally, the electronic protections are present, notably the one against short-circuit and the one against overheating.
The good points of the Kroma 217 can no longer be counted. Users can't remain unaffected by this and Innokin is further cementing its reputation as a brilliant manufacturer.
Contents :
1x Kroma 217 box
1x USB type-C cable
1x user manual